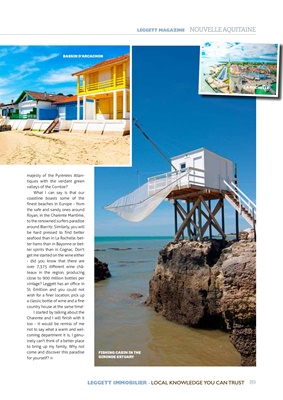 LEGGETT MAGAZINE NOUVELLE AQUITAINE
majesty of the Pyrénées Atlantiques with
the verdant green
valleys of the Corrèze?
What I can say is that our
coastline boasts some of the
finest beaches in Europe - from
the safe and sandy ones around
Royan, in the Charente Maritime,
to the renowned surfers paradise
around Biarritz. Similarly, you will
be hard pressed to find better
seafood than in La Rochelle, better hams than in Bayonne
or better spirits
than in Cognac. Don't
get me started on the wine either
- did you know that there are
over 7,375 different wine châteaux in the region,
producing
close to 900 million bottles per
vintage? Leggett has an office in
St. Emillion and you could not
wish for a finer location, pick up
a classic bottle of wine and a fine
country house at the same time!
I started by talking about the
Charente and I will finish with it
too - it would be remiss of me
not to say what a warm and welcoming
department it is, I genuinely can't think of
a better place
to bring up my family. Why not
come and discover this paradise
for yourself?
BASSIN D'ARCACHON
FISHING CABIN IN THE
GIRONDE ESTUARY
LA ROCHELLE
89
LEGGETT IMMOBILIER - LOCAL KNOWLEDGE YOU CAN TRUST