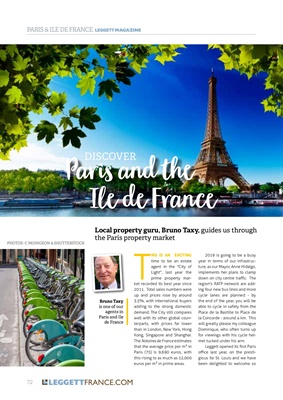 72
2019 is going to be a busy
year in terms of our infrastructure,
as our Mayor, Anne Hidalgo,
implements her plans to clamp
down on city centre traffic. The
region's RATP network are adding four
new bus lines and more
cycle lanes are planned - by
the end of the year, you will be
able to cycle in safety from the
Place de la Bastille to Place de
la Concorde - around 4 km. This
will greatly please my colleague
Dominique, who often turns up
for viewings with his cycle helmet tucked
under his arm.
Leggett opened its first Paris
office last year, on the prestigious Ile
St. Louis and we have
been delighted to welcome so
T
HIS IS AN EXCITING
time to be an estate
agent in the "City of
Light", last year the
prime property market
recorded its best year since
2011. Total sales numbers were
up and prices rose by around
3.5%, with international buyers
adding to the strong domestic
demand. The City still compares
well with its other global counterparts, with prices
far lower
than in London, New York, Hong
Kong, Singapore and Shanghai.
The Notaires de France estimates
that the average price per m2 in
Paris (75) is 9,690 euros, with
this rising to as much as 12,000
euros per m2 in prime areas.
Bruno Taxy
is one of our
agents in
Paris and Ile
de France
Local property guru, Bruno Taxy, guides us through
the Paris property market
PARIS & ILE DE FRANCE LEGGETT MAGAZINE
LEGGETTFRANCE.COM
DISCOVER
PHOTOS : C MOINGEON & SHUTTERSTOCK
Paris and the
Ile de France