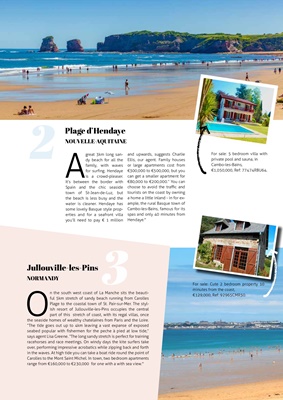 32 A
great 3km long sandy beach for
all the
family, with waves
for surfing. Hendaye
is a crowd-pleaser.
It's between the border with
Spain and the chic seaside
town of St-Jean-de-Luz, but
the beach is less busy and the
water is cleaner. Hendaye has
some lovely Basque style properties and for
a seafront villa
you'll need to pay € 1 million
Plage d'Hendaye
NOUVELLE-AQUITAINE
and upwards, suggests Charlie
Ellis, our agent. Family houses
or large apartments cost from
€300,000 to €500,000, but you
can get a smaller apartment for
€80,000 to €200,000." You can
choose to avoid the traffic and
tourists on the coast by owning
a home a little inland - in for example,
the rural Basque town of
Cambo-les-Bains, famous for its
spas and only 40 minutes from
Hendaye."
2 3Jullouville-les-Pins
NORMANDY
For sale: 5 bedroom villa with
private pool and sauna, in
Cambo-les-Bains,
€1,050,000, Ref: 77474RBU64.
For sale: Cute 2 bedroom property 10
minutes from the coast,
€129,000, Ref: 92965CMR50.
Y
Y
O
n the south west coast of La Manche sits the beautiful 5km stretch
of sandy beach running from Carolles
Plage to the coastal town of St. Pair-sur-Mer. The stylish resort
of Jullouville-les-Pins occupies the central
part of this stretch of coast, with its regal villas, once
the seaside homes of wealthy chatelaines from Paris and the Loire.
"The tide goes out up to 4km leaving a vast expanse of exposed
seabed popular with fishermen for the peche à pied at low tide,"
says agent Lisa Greene. "The long sandy stretch is perfect for training
racehorses and race meetings. On windy days the kite surfers take
over, performing impressive acrobatics while zipping back and forth
in the waves. At high tide you can take a boat ride round the point of
Carolles to the Mont Saint Michel. In town, two bedroom apartments
range from €160,000 to €230,000 for one with a with sea view."