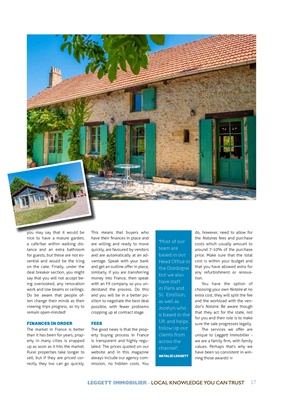 17
LEGGETT IMMOBILIER - LOCAL KNOWLEDGE YOU CAN TRUST
you may say that it would be
nice to have a mature garden,
a cafe/bar within walking distance
and an extra bathroom
for guests, but these are not essential and would
be the icing
on the cake. Finally, under the
deal breaker section, you might
say that you will not accept being overlooked,
any renovation
work and low beams or ceilings.
Do be aware that people often change
their minds as their
viewing trips progress, so try to
remain open-minded!
FINANCES IN ORDER
The market in France is better
than it has been for years, property in many cities is snapped
up as soon as it hits the market.
Rural properties take longer to
sell, but if they are priced correctly
they too can go quickly.
This means that buyers who
have their finances in place and
are willing and ready to move
quickly, are favoured by vendors
and are automatically at an advantage.
Speak with your bank
and get an outline offer in place,
similarly, if you are transferring
money into France, then speak
with an FX company so you understand
the process. Do this
and you will be in a better position to negotiate
the best deal
possible, with fewer problems
cropping up at contract stage.
FEES
The good news is that the property buying process
in France
is transparent and highly regulated. The prices
quoted on our
website and in this magazine
always include our agency commission,
no hidden costs. You
do, however, need to allow for
the Notaires fees and purchase
costs which usually amount to
around 7-10% of the purchase
price. Make sure that the total
cost is within your budget and
that you have allowed extra for
any refurbishment or renovation.
You have the option of
choosing your own Notaire at no
extra cost, they will split the fee
and the workload with the vendor's Notaire.
Be aware though
that they act for the state, not
for you and their role is to make
sure the sale progresses legally.
The services we offer are
unique to Leggett Immobilier -
we are a family firm, with family
values. Perhaps that's why we
have been so consistent in winning those awards!
"Most of our
team are
based in our
Head Office in
the Dordogne
but we also
have staff
in Paris and
St. Emillion,
as well as
Jocelyn who
is based in the
UK and helps
follow up our
clients from
across the
channel".
NATALIE LEGGETT