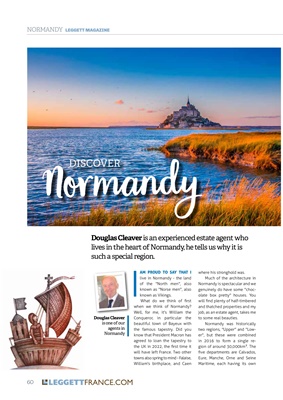 60606060
Douglas Cleaver
is one of our
agents in
NormandyI
AM PROUD TO SAY THAT I
live in Normandy - the land
of the "North men", also
known as "Norse men", also
known as Vikings.
What do we think of first
when we think of Normandy?
Well, for me, it's William the
Conqueror, in particular the
beautiful town of Bayeux with
the famous tapestry. Did you
know that President Macron has
agreed to loan the tapestry to
the UK in 2022, the first time it
will have left France. Two other
towns also spring to mind - Falaise,
William's birthplace, and Caen
where his stronghold was.
Much of the architecture in
Normandy is spectacular and we
genuinely do have some "chocolate box
pretty" houses. You
will find plenty of half-timbered
and thatched properties and my
job, as an estate agent, takes me
to some real beauties.
Normandy was historically
two regions, "Upper" and "Lower", but these were
combined
in 2016 to form a single region of
around 30,000km2. The
five departments are Calvados,
Eure, Manche, Orne and Seine
Maritime, each having its own
60 LEGGETTFRANCE.COM
NORMANDY LEGGETT MAGAZINE
Normandy
DISCOVER
Douglas Cleaver is an experienced estate agent who
lives in the heart of Normandy, he tells us why it is
such a special region.