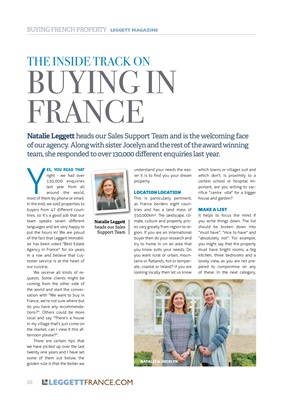 16 LEGGETTFRANCE.COM
Natalie Leggett heads our Sales Support Team and is the welcoming face
of our agency. Along with sister Jocelyn and the rest of the award winning
team, she responded to over 130,000 different enquiries last year.
understand your needs the easier it
is to find you your dream
property.
LOCATION LOCATION
This is particularly pertinent,
as France borders eight countries and has a land mass
of
550,000km². The landscape, climate,
culture and property prices vary greatly
from region to region. If
you are an international
buyer then do your research and
try to home in on an area that
you know suits your needs. Do
you want rural or urban, mountains or
flatlands, hot or temperate,
coastal or inland? If you are
looking locally then let us know
which towns or villages suit and
which don't. Is proximity to a
certain school or hospital important, are
you willing to sacrifice
"centre ville" for a bigger
house and garden?
MAKE A LIST
It helps to focus the mind if
you write things down. The list
should be broken down into
"must have", "nice to have" and
"absolutely not". For example,
you might say that the property
must have bright rooms, a big
kitchen, three bedrooms and a
lovely view, as you are not prepared
to compromise on any
of these. In the next category,
Y
ES, YOU READ THAT
right - we had over
130,000 enquiries
last year from all
around the world,
most of them by phone or email.
In the end, we sold properties to
buyers from 47 different countries, so
it's a good job that our
team speaks seven different
languages and are very happy to
put the hours in! We are proud
of the fact that Leggett Immobilier has been voted
"Best Estate
Agency in France" for six years
in a row and believe that customer service
is at the heart of
our success.
We receive all kinds of requests. Some
clients might be
coming from the other side of
the world and start the conversation with "We
want to buy in
France, we're not sure where but
do you have any recommendations?". Others
could be more
local and say "There's a house
in my village that's just come on
the market, can I view it this afternoon please?".
There are certain tips that
we have picked up over the last
twenty one years and I have set
some of them out below, the
golden rule is that the better we
BUYING IN
FRANCE
BUYING FRENCH PROPERTY LEGGETT MAGAZINE
Natalie Leggett
heads our Sales
Support Team
THE INSIDE TRACK ON
NATALIE & JOCELYN