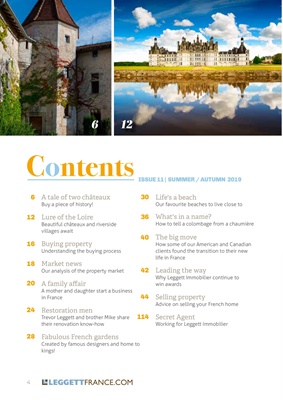 4 LEGGETTFRANCE.COM
6 12
Contents ISSUE 11 | SUMMER / AUTUMN 2019
ents
Life's a beach
Our favourite beaches to live close to
What's in a name?
How to tell a colombage from a chaumière
The big move
How some of our American and Canadian
clients found the transition to their new
life in France
Leading the way
Why Leggett Immobilier continue to
win awards
Selling property
Advice on selling your French home
Secret Agent
Working for Leggett Immobilier
30
36
40
42
44
114
A tale of two châteaux
Buy a piece of history!
Lure of the Loire
Beautiful châteaux and riverside
villages await
Buying property
Understanding the buying process
Market news
Our analysis of the property market
A family affair
A mother and daughter start a business
in France
Restoration men
Trevor Leggett and brother Mike share
their renovation know-how
Fabulous French gardens
Created by famous designers and home to
kings!
6
12
16
18
20
24
28