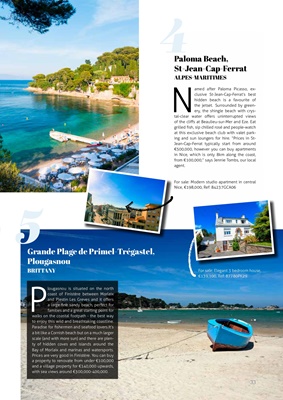 3333
4Paloma Beach,
St-Jean-Cap-Ferrat
ALPES-MARITIMES
5
P
lougasnou is situated on the north
coast of Finistère between Morlaix
and Plestin Les Greves and it offers
a large fine sandy beach, perfect for
families and a great starting point for
walks on the coastal footpath - the best way
to enjoy this wild and breathtaking coastline.
Paradise for fishermen and seafood lovers.It's
a bit like a Cornish beach but on a much larger
scale (and with more sun) and there are plenty of
hidden coves and islands around the
Bay of Morlaix and marinas and watersports.
Prices are very good in Finistère. You can buy
a property to renovate from under €100,000
and a village property for €140,000 upwards,
with sea views around €300,000-400,000.
Grande Plage de Primel-Trégastel,
Plougasnou
BRITTANY For sale: Elegant 3 bedroom house,
€139,100, Ref: 87780PK29.Y
Y
N
amed after Paloma Picasso, exclusive
St-Jean-Cap-Ferrat's best
hidden beach is a favourite of
the jetset.  Surrounded by greenery,
the shingle beach with crystal-clear water
offers uninterrupted views
of the cliffs at Beaulieu-sur-Mer and Eze. Eat
grilled fish, sip chilled rosé and people-watch
at this exclusive beach club with valet parking and sun loungers
for hire. "Prices in StJean-Cap-Ferrat
typically start from around
€500,000, however you can buy apartments
in Nice, which is only 8km along the coast,
from €100,000," says Jennie Tombs, our local
agent.
For sale: Modern studio apartment in central
Nice, €198,000, Ref: 84237GCA06