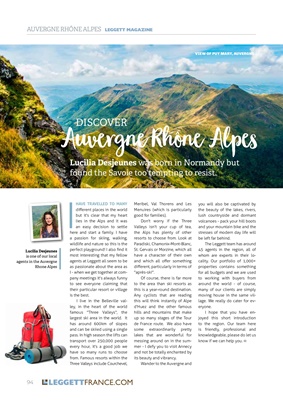 94 LEGGETTFRANCE.COM
DISCOVER
Lucilia Desjeunes
is one of our local
agents in the Auvergne
Rhone Alpes
VIEW OF PUY MARY, AUVERGNE
AUVERGNE RHÔNE ALPES LEGGETT MAGAZINE
I
HAVE TRAVELLED TO MANY
different places in the world
but it's clear that my heart
lies in the Alps and it was
an easy decision to settle
here and start a family. I have
a passion for skiing, walking,
wildlife and nature so this is the
perfect playground! I also find it
most interesting that my fellow
agents at Leggett all seem to be
as passionate about the area as
I - when we get together at company meetings it's always
funny
to see everyone claiming that
their particular resort or village
is the best.
I live in the Belleville valley,
in the heart of the world
famous "Three Valleys", the
largest ski area in the world. It
has around 600km of slopes
and can be skiied using a single
pass. In high season the lifts can
transport over 250,000 people
every hour, it's a good job we
have so many runs to choose
from. Famous resorts within the
Three Valleys include Courchevel,
Lucilia Desjeunes was born in Normandy but
found the Savoie too tempting to resist.
Auvergne Rhône Alpes
Meribel, Val Thorens and Les
Menuires (which is particularly
good for families).
Don't worry if the Three
Valleys isn't your cup of tea,
the Alps has plenty of other
resorts to choose from. Look at
Paradiski, Chamonix-Mont-Blanc,
St. Gervais or Morzine, which all
have a character of their own
and which all offer something
different, particularly in terms of
"après-ski".
Of course, there is far more
to the area than ski resorts as
this is a year-round destination.
Any cyclists that are reading
this will think instantly of Alpe
d'Huez and the other famous
hills and mountains that make
up so many stages of the Tour
de France route. We also have
some extraordinarily pretty
lakes that are wonderful for
messing around on in the summer -
I defy you to visit Annecy
and not be totally enchanted by
its beauty and vibrancy.
Wander to the Auvergne and
you will also be captivated by
the beauty of the lakes, rivers,
lush countryside and dormant
volcanoes - pack your hill boots
and your mountain bike and the
stresses of modern day life will
be left far behind.
The Leggett team has around
45 agents in the region, all of
whom are experts in their locality.
Our portfolio of 1,000+
properties contains something
for all budgets and we are used
to working with buyers from
around the world - of course,
many of our clients are simply
moving house in the same village.
We really do cater for everyone.
I hope that you have enjoyed
this short introduction
to the region. Our team here
is friendly, professional and
knowledgeable, please do let us
know if we can help you.