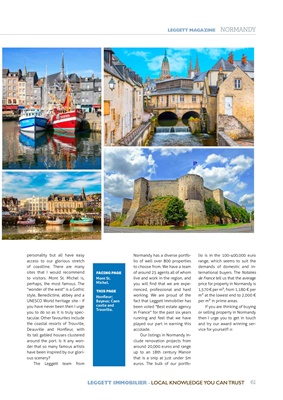 61
FACING PAGE
Mont St.
Michel.
THIS PAGE
Honfleur;
Bayeux; Caen
castle and
Trouville.
personality but all have easy
access to our glorious stretch
of coastline. There are many
sites that I would recommend
to visitors. Mont St. Michel is,
perhaps, the most famous. The
"wonder of the west" is a Gothic
style, Benedictine, abbey and a
UNESCO World heritage site - if
you have never been then I urge
you to do so as it is truly spectacular.
Other favourites include
the coastal resorts of Trouville,
Deauville and Honfleur, with
its tall gabled houses clustered
around the port. Is it any wonder that so many famous
artists
have been inspired by our glorious scenery?
The Leggett team from
Normandy has a diverse portfolio of
well over 800 properties
to choose from. We have a team
of around 25 agents all of whom
live and work in the region, and
you will find that we are experienced,
professional and hard
working. We are proud of the
fact that Leggett Immobilier has
been voted "Best estate agency
in France" for the past six years
running and feel that we have
played our part in earning this
accolade.
Our listings in Normandy include renovation
projects from
around 20,000 euros and range
up to an 18th century Manoir
that is a snip at just under 5m
euros. The bulk of our portfolio is in the 100-400,000 euro
range, which seems to suit the
demands of domestic and international buyers.
The Notaires
de France tell us that the average
price for property in Normandy is
1,570 € per m2, from 1,180 € per
m2 at the lowest end to 2,000 €
per m2 in prime areas.
If you are thinking of buying
or selling property in Normandy
then I urge you to get in touch
and try our award winning service
for yourself!
61
LEGGETT MAGAZINE NORMANDY
LEGGETT IMMOBILIER - LOCAL KNOWLEDGE YOU CAN TRUST