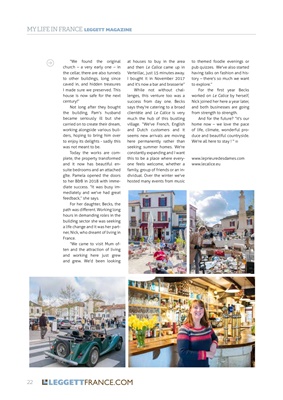 "We found the original
church - a very early one - in
the cellar, there are also tunnels
to other buildings, long since
caved in, and hidden treasures
I made sure we preserved. This
house is now safe for the next
century!"
Not long after they bought
the building, Pam's husband
became seriously ill but she
carried on to create their dream,
working alongside various builders,
hoping to bring him over
to enjoy its delights - sadly this
was not meant to be.
Today the works are complete,
the property transformed
and it now has beautiful ensuite bedrooms
and an attached
gîte. Pamela opened the doors
to her B&B in 2018 with immediate success.
"It was busy immediately and we've
had great
feedback," she says.
For her daughter, Becks, the
path was different. Working long
hours in demanding roles in the
building sector she was seeking
a life change and it was her partner,
Nick, who dreamt of living in
France.
"We came to visit Mum often and the attraction
of living
and working here just grew
and grew. We'd been looking
at houses to buy in the area
and then Le Calice came up in
Verteillac, just 15 minutes away.
I bought it in November 2017
and it's now a bar and brasserie"
While not without challenges,
this venture too was a
success from day one. Becks
says they're catering to a broad
clientèle and Le Calice is very
much the hub of this bustling
village. "We've French, English
and Dutch customers and it
seems new arrivals are moving
here permanently rather than
seeking summer homes. We're
constantly expanding and I want
this to be a place where everyone feels
welcome, whether a
family, group of friends or an individual. Over
the winter we've
hosted many events from music
to themed foodie evenings or
pub quizzes. We've also started
having talks on fashion and history -
there's so much we want
to explore."
For the first year Becks
worked on Le Calice by herself,
Nick joined her here a year later,
and both businesses are going
from strength to strength.
And for the future? "it's our
home now - we love the pace
of life, climate, wonderful produce
and beautiful countryside.
We're all here to stay ! "
22 LEGGETTFRANCE.COM
MY LIFE IN FRANCE LEGGETT MAGAZINE