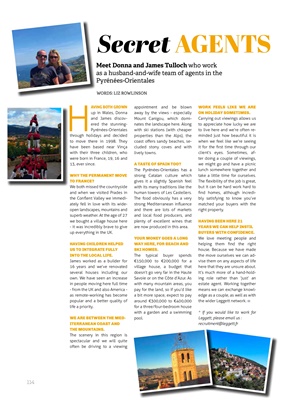 Meet Donna and James Tulloch who work
as a husband-and-wife team of agents in the
Pyrénées-Orientales
114
WORDS: LIZ ROWLINSON
H
AVING BOTH GROWN
up in Wales, Donna
and James discovered
the stunningPyrénées-Orientales
through holidays and decided
to move there in 1998. They
have been based near VinÇa
with their three children, who
were born in France, 19, 16 and
13, ever since.
WHY THE PERMANENT MOVE
TO FRANCE?
We both missed the countryside
and when we visited Prades in
the Conflent Valley we immediately fell
in love with its wideopen landscapes, mountains and
superb weather. At the age of 27
we bought a village house here
- it was incredibly brave to give
up everything in the UK.
HAVING CHILDREN HELPED
US TO INTEGRATE FULLY
INTO THE LOCAL LIFE.
James worked as a builder for
16 years and we've renovated
several houses including our
own. We have seen an increase
in people moving here full time
- from the UK and also America -
as remote-working has become
popular and a better quality of
life a priority.
WE ARE BETWEEN THE MEDITERRANEAN
COAST AND
THE MOUNTAINS.
The scenery in this region is
spectacular and we will quite
often be driving to a viewing
appointment and be blown
away by the views - especially
Mount Canigou, which dominates the landscape here.
Along
with ski stations (with cheaper
properties than the Alps), the
coast offers sandy beaches, secluded stony coves
and with
lively towns.
A TASTE OF SPAIN TOO?
The Pyrénées-Orientales has a
strong Catalan culture which
gives it a slightly Spanish feel
with its many traditions like the
human towers of Les Castellers.
The food obviously has a very
strong Mediterranean influence
and there are lots of markets
and local food producers, and
plenty of excellent wines that
are now produced in this area.
YOUR MONEY GOES A LONG
WAY HERE, FOR BEACH AND
SKI HOMES.
The typical buyer spends
€150,000 to €200,000 for a
village house, a budget that
doesn't go very far in the Haute
Savoie or on the CÔte d'Azur. As
with many mountain areas, you
pay for the land, so if you'd like
a bit more space, expect to pay
around €300,000 to €400,000
for a three/four-bedroom house
with a garden and a swimming
pool.
Secret AGENTS
WORK FEELS LIKE WE ARE
ON HOLIDAY SOMETIMES.
Carrying out viewings allows us
to appreciate how lucky we are
to live here and we're often reminded just how
beautiful it is
when we feel like we're seeing
it for the first time through our
client's eyes. Sometimes, after doing a couple
of viewings,
we might go and have a picnic
lunch somewhere together and
take a little time for ourselves.
The flexibility of the job is great,
but it can be hard work hard to
find homes, although incredibly satisfying
to know you've
matched your buyers with the
right property.
HAVING BEEN HERE 21
YEARS WE CAN HELP INSTIL
BUYERS WITH CONFIDENCE.
We love meeting people and
helping them find the right
house. Because we have made
the move ourselves we can advise them
on any aspects of life
here that they are unsure about.
It's much more of a hand-holding role
rather than 'just' an
estate agent. Working together
means we can exchange knowledge
as a couple, as well as with
the wider Leggett network.
* If you would like to work for
Leggett, please email us :