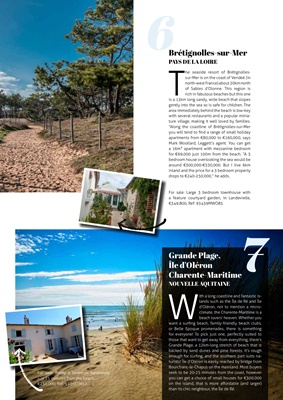 34
6Brétignolles-sur-Mer
PAYS DE LA LOIRE 7
W
ith a long coastline and fantastic islands such as the Île de Ré
and Île
d'Oléron, not to mention a microclimate,
the Charente-Maritime is a
beach lovers' heaven. Whether you
want a surfing beach, family-friendly beach clubs,
or Belle Epoque promenades, there is something
for everyone! To pick just one, perfectly suited to
those that want to get away from everything, there's
Grande Plage, a 12km-long stretch of beach that is
backed by sand dunes and pine forests. It's rough
enough for surfing, and the southern part suits naturists! Île d'Oléron
is easily reached by bridge from
Bourcfranc-le-Chapus on the mainland. Most buyers
seek to be 20-25 minutes from the coast, however
you can get a choice of small houses for €300,000
on the island, that is more affordable (and larger)
than its chic neighbour, the Île de Ré.
Grande Plage,
Île d'Oléron
Charente-Maritime
NOUVELLE AQUITAINE
For sale: Pretty 4 bedroom farmhouse
just 25 minutes from the beach,
€230,000, Ref: 93101TM17. Y
Y
T
he seaside resort of Brétignollessur-Mer is
on the coast of Vendeé (in
north-west France) about 20km north
of Sables d'Olonne. This region is
rich in fabulous beaches but this one
is a 13km long sandy, wide beach that slopes
gently into the sea so is safe for children. The
area immediately behind the beach is low-key
with several restaurants and a popular miniature
village, making it well loved by families.
"Along the coastline of Brétignolles-sur-Mer
you will tend to find a range of small holiday
apartments from €80,000 to €160,000, says
Mark Woollard, Leggett's agent. You can get
a 16m2 apartment with mezzanine bedroom
for €69,000 just 100m from the beach. "A 3
bedroom house overlooking the sea would be
around €300,000-€330,000. But I live 6km
inland and the price for a 3 bedroom property
drops to €240-250,000," he adds.
For sale: Large 3 bedroom townhouse with
a feature courtyard garden, in Landevielle,
€349,800, Ref: 93439MWO85