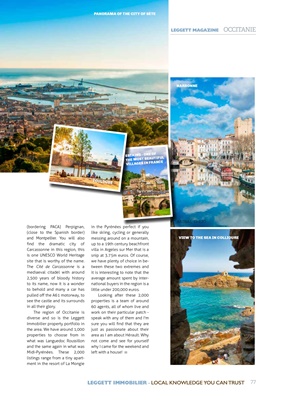 77
LEGGETT MAGAZINE OCCITANIE
LEGGETT IMMOBILIER - LOCAL KNOWLEDGE YOU CAN TRUST
(bordering PACA) Perpignan,
(close to the Spanish border)
and Montpellier. You will also
find the dramatic city of
Carcassonne in this region, this
is one UNESCO World Heritage
site that is worthy of the name.
The Cité de Carcassonne is a
mediaeval citadel with around
2,500 years of bloody history
to its name, now it is a wonder
to behold and many a car has
pulled off the A61 motorway, to
see the castle and its surrounds
in all their glory.
The region of Occitanie is
diverse and so is the Leggett
Immobilier property portfolio in
the area. We have around 1,000
properties to choose from in
what was Languedoc Roussillon
and the same again in what was
Midi-Pyrénées. These 2,000
listings range from a tiny apartment in the resort
of La Mongie
in the Pyrénées perfect if you
like skiing, cycling or generally
messing around on a mountain,
up to a 19th century beachfront
villa in Argeles sur Mer that is a
snip at 3.75m euros. Of course,
we have plenty of choice in between
these two extremes and
it is interesting to note that the
average amount spent by international buyers
in the region is a
little under 200,000 euros.
Looking after these 2,000
properties is a team of around
60 agents, all of whom live and
work on their particular patch -
speak with any of them and I'm
sure you will find that they are
just as passionate about their
area as I am about Hérault. Why
not come and see for yourself
why I came for the weekend and
left with a house!
PANORAMA OF THE CITY OF SÈTE
NARBONNE
VIEW TO THE SEA IN COLLIOURE
ESTAING - ONE OF
THE MOST BEAUTIFUL
VILLAGES IN FRANCE
TOULOUSE
FREDP
ANIBAL TREJO