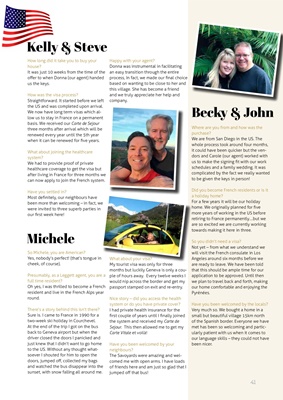 How long did it take you to buy your
house?
It was just 10 weeks from the time of the
offer to when Donna (our agent) handed
us the keys.
How was the visa process?
Straightforward. It started before we left
the US and was completed upon arrival.
We now have long term visas which allow
us to stay in France on a permanent
basis. We received our Carte de Sejour
three months after arrival which will be
renewed every year until the 5th year
when it can be renewed for five years.
What about joining the healthcare
system?
We had to provide proof of private
healthcare coverage to get the visa but
after living in France for three months we
can now apply to join the French system.
Have you settled in?
Most definitely, our neighbours have
been more than welcoming - in fact, we
were invited to three superb parties in
our first week here!
Becky & John
Where are you from and how was the
purchase?
We are from San Diego in the US. The
whole process took around four months,
it could have been quicker but the vendors
and Carole (our agent) worked with
us to make the signing fit with our work
schedules and a family wedding. It was
complicated by the fact we really wanted
to be given the keys in person!
Did you become French residents or is it
a holiday home?
For a few years it will be our holiday
home. We originally planned for five
more years of working in the US before
retiring to France permanently….but we
are so excited we are currently working
towards making it here in three.
So you didn't need a visa?
Not yet - from what we understand we
will visit the French consulate in Los
Angeles around six months before we
are ready to leave. We have been told
that this should be ample time for our
application to be approved. Until then
we plan to travel back and forth, making
our home comfortable and enjoying the
Pyrénées.
Have you been welcomed by the locals?
Very much so. We bought a home in a
small but beautiful village 15km north
of the Spanish border. Everyone we have
met has been so welcoming and particularly patient with us when it comes
to
our language skills - they could not have
been nicer.
Happy with your agent?
Donna was instrumental in facilitating
an easy transition through the entire
process, In fact, we made our final choice
based on wanting to be close to her and
this village. She has become a friend
and we truly appreciate her help and
company.
Michele
So Michele, you are American?
Yes, nobody's perfect! (that's tongue in
cheek, of course).
Presumably, as a Leggett agent, you are a
full time resident?
Oh yes, I was thrilled to become a French
resident and live in the French Alps year
round.
There's a story behind this isn't there?
Sure is. I came to France in 1990 for a
two-week ski holiday in Courchevel.
At the end of the trip I got on the bus
back to Geneva airport but when the
driver closed the doors I panicked and
just knew that I didn't want to go home
to the US. Without any thought whatsoever
I shouted for him to open the
doors, jumped off, collected my bags
and watched the bus disappear into the
sunset, with snow falling all around me.
What about your visa?
My tourist visa was only for three
months but luckily Geneva is only a couple of
hours away. Every twelve weeks I
would nip across the border and get my
passport stamped on exit and re-entry.
Nice story - did you access the health
system or do you have private cover?
I had private health insurance for the
first couple of years until I finally joined
the system and received my Carte de
Sejour. This then allowed me to get my
Carte Vitale et voilà!
Have you been welcomed by your
neighbours?
The Savoyards were amazing and welcomed
me with open arms. I have loads
of friends here and am just so glad that I
jumped off that bus!
Kelly & Steve
41