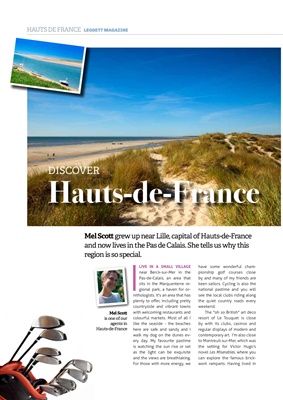 HAUTS DE FRANCE LEGGETT MAGAZINEI
LIVE IN A SMALL VILLAGE
near Berck-sur-Mer in the
Pas-de-Calais, an area that
sits in the Marquenterre regional park, a haven
for ornithologists.
It's an area that has
plenty to offer, including pretty
countryside and vibrant towns
with welcoming restaurants and
colourful markets. Most of all I
like the seaside - the beaches
here are safe and sandy and I
walk my dog on the dunes every day.
My favourite pastime
is watching the sun rise or set
as the light can be exquisite
and the views are breathtaking.
For those with more energy, we
Mel Scott grew up near Lille, capital of Hauts-de-France
and now lives in the Pas de Calais. She tells us why this
region is so special.
Mel Scott
is one of our
agents in
Hauts-de-France
have some wonderful championship golf
courses close
by and many of my friends are
keen sailors. Cycling is also the
national pastime and you will
see the local clubs riding along
the quiet country roads every
weekend.
The "oh so British" art deco
resort of Le Touquet is close
by with its clubs, casinos and
regular displays of modern and
contemporary art. I'm also close
to Montreuil-sur-Mer, which was
the setting for Victor Hugo's
novel Les Miserables, where you
can explore the famous brickwork
ramparts. Having lived in
Hauts-de-France
DISCOVER