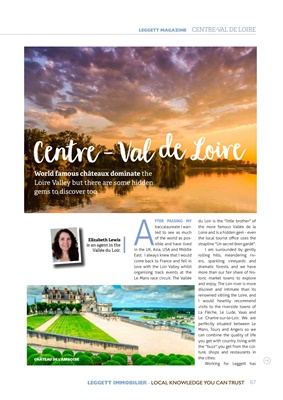 DISCOVER
67
A
FTER PASSING MY
baccalaureate I wanted to see as much
of the world as possible and have
lived
in the UK, Asia, USA and Middle
East. I always knew that I would
come back to France and fell in
love with the Loir Valley whilst
organising track events at the
Le Mans race circuit. The Vallée
World famous châteaux dominate the
Loire Valley but there are some hidden
gems to discover too.
du Loir is the "little brother" of
the more famous Vallée de la
Loire and is a hidden gem - even
the local tourist office uses the
strapline "Un secret bien gardé".
I am surrounded by gently
rolling hills, meandering rivers,
sparkling vineyards and
dramatic forests, and we have
more than our fair share of historic market
towns to explore
and enjoy. The Loir river is more
discreet and intimate than its
renowned sibling the Loire, and
I would heartily recommend
visits to the riverside towns of
La Flèche, Le Lude, Vaas and
Le Chartre-sur-le-Loir. We are
perfectly situated between Le
Mans, Tours and Angers so we
can combine the quality of life
you get with country living with
the "buzz" you get from the culture,
shops and restaurants in
the cities.
Working for Leggett has
Elizabeth Lewis
is an agent in the
Vallée du Loir.
CHÂTEAU DE L'AMBOISE
Centre - Val de Loire
LEGGETT MAGAZINE CENTRE-VAL DE LOIRE
LEGGETT IMMOBILIER - LOCAL KNOWLEDGE YOU CAN TRUST