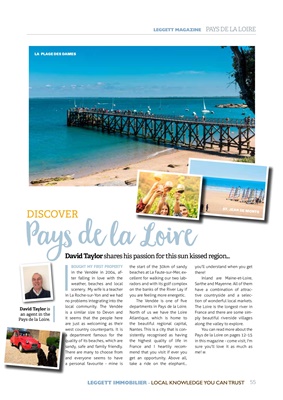 I
BOUGHT MY FIRST PROPERTY
in the Vendée in 2004, after falling
in love with the
weather, beaches and local
scenery. My wife is a teacher
in La Roche-sur-Yon and we had
no problems integrating into the
local community. The Vendée
is a similar size to Devon and
it seems that the people here
are just as welcoming as their
west country counterparts. It is
a department famous for the
quality of its beaches, which are
sandy, safe and family friendly.
There are many to choose from
and everyone seems to have
a personal favourite - mine is
David Taylor shares his passion for this sun kissed region...
Pays de la Loire
DISCOVER
LA PLAGE DES DAMES
LEGGETT MAGAZINE PAYS DE LA LOIRE
55
LEGGETT IMMOBILIER - LOCAL KNOWLEDGE YOU CAN TRUST
the start of the 30km of sandy
beaches at La Faute-sur-Mer, excellent
for walking our two labradors
and with its golf complex
on the banks of the River Lay if
you are feeling more energetic.
The Vendée is one of five
departments in Pays de la Loire.
North of us we have the Loire
Atlantique, which is home to
the beautiful regional capital,
Nantes. This is a city that is consistently recognised
as having
the highest quality of life in
France and I heartily recommend that you
visit if ever you
get an opportunity. Above all,
take a ride on the elephant...
you'll understand when you get
there!
Inland are Maine-et-Loire,
Sarthe and Mayenne. All of them
have a combination of attractive
countryside and a selection of
wonderful local markets.
The Loire is the longest river in
France and there are some simply beautiful riverside
villages
along the valley to explore.
You can read more about the
Pays de la Loire on pages 12-15
in this magazine - come visit, I'm
sure you'll love it as much as
me!
ST. JEAN DE MONTS
David Taylor is
an agent in the
Pays de la Loire.