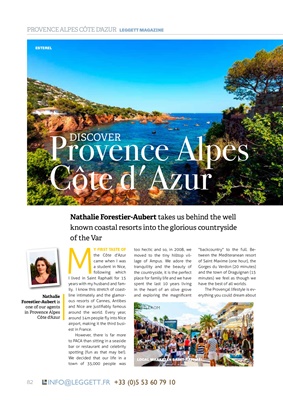 82
PROVENCE ALPES CÔTE D'AZUR LEGGETT MAGAZINE
M
Y FIRST TASTE OF
the CÔte d'Azur
came when I was
a student in Nice,
following which
I lived in Saint Raphaël for 15
years with my husband and family.
I know this stretch of coastline intimately and the glamorous
resorts
of Cannes, Antibes
and Nice are justifiably famous
around the world. Every year,
around 14m people fly into Nice
airport, making it the third busiest in France.
However, there is far more
to PACA than sitting in a seaside
bar or restaurant and celebrity
spotting (fun as that may be!).
We decided that our life in a
town of 35,000 people was
too hectic and so, in 2008, we
moved to the tiny hilltop village
of Ampus. We adore the
tranquility and the beauty of
the countryside, it is the perfect
place for family life and we have
spent the last 10 years living
in the heart of an olive grove
and exploring the magnificent
Provence Alpes
Côte d'Azur
DISCOVER
Nathalie
Forestier-Aubert is
one of our agents
in Provence Alpes
Côte d'Azur
"backcountry" to the full. Between
the Mediteranean resort
of Saint Maxime (one hour), the
Gorges du Verdon (20 minutes)
and the town of Draguignan (15
minutes) we feel as though we
have the best of all worlds.
The Provençal lifestyle is everything you
could dream about
Nathalie Forestier-Aubert takes us behind the well
known coastal resorts into the glorious countryside
of the Var
ESTEREL
LOCAL MARKET IN SAINT-RAPHAËL
LITTLEAOM
info@leggett.fr +33 (0)5 53 60 79 10