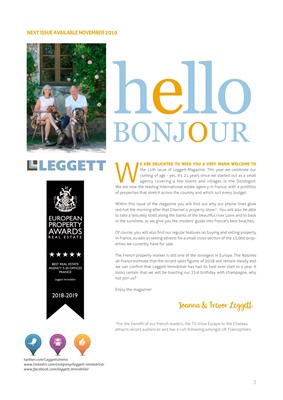 LEGGETTPRESTIGE
3
W
E ARE DELIGHTED TO WISH YOU A VERY WARM WELCOME TO
the 11th issue of Leggett Magazine. This year we celebrate our
coming of age - yes, it's 21 years since we started out as a small
agency covering a few towns and villages in the Dordogne.
We are now the leading international estate agency in France, with a portfolio
of properties that stretch across the country and which suit every budget.
Within this issue of the magazine you will find out why our phone lines glow
red-hot the morning after that Channel 4 property show*. You will also be able
to take a leisurely stroll along the banks of the beautiful river Loire and to bask
in the sunshine, as we give you the insiders' guide into France's best beaches.
Of course, you will also find our regular features on buying and selling property
in France, as well as seeing adverts for a small cross-section of the 15,000 properties we
currently have for sale.
The French property market is still one of the strongest in Europe. The Notaires
de France estimate that the record sales figures of 2018 will remain steady and
we can confirm that Leggett Immobilier has had its best ever start to a year. It
looks certain that we will be toasting our 21st birthday with champagne, why
not join us?
Enjoy the magazine!
*For the benefit of our French readers, the TV show Escape to the Chateau
attracts record audiences and has a cult following amongst UK Francophiles.
Joanna & Trevor Leggett
NEXT ISSUE AVAILABLE NOVEMBER 2019
twitter.com/LeggettsImmo
www.linkedin.com/company/leggett-immobilier
www.facebook.com/leggett.immobilier helloBONJOUR