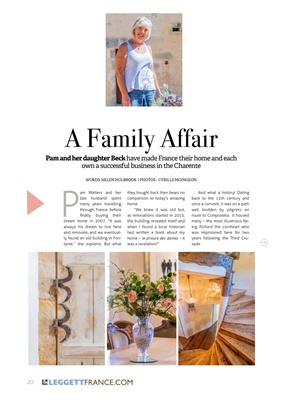 A Family Affair
P
am Walters and her
late husband spent
many years travelling
through France before
finally buying their
dream home in 2007. "It was
always his dream to live here
and renovate, and we eventually found
an old building in Fontaine."
she explains. But what they bought back then bears no
comparison to today's amazing
home.
"We knew it was old but,
as renovations started in 2013,
the building revealed itself and
when I found a local historian
had written a book about my
home - le prieure des dames - it
was a revelation!"
Pam and her daughter Beck have made France their home and each
own a successful business in the Charente
WORDS: HELEN HOLBROOK | PHOTOS : CYRILLE MOINGEON And what a history! Dating
back to the 12th century and
once a convent, it was on a path
well trodden by pilgrims en
route to Compostela. It housed
many - the most illustrious being Richard
the Lionheart who
was imprisoned here for two
years following the Third Crusade.
20 LEGGETTFRANCE.COM