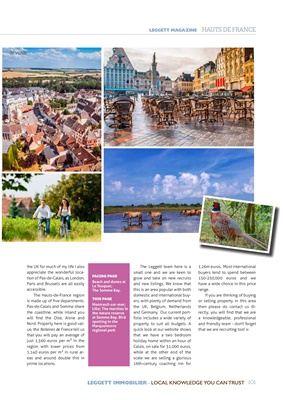 101
LEGGETT IMMOBILIER - LOCAL KNOWLEDGE YOU CAN TRUST
LEGGETT MAGAZINE HAUTS DE FRANCE
FACING PAGE
Beach and dunes at
Le Touquet;
The Somme Bay.
THIS PAGE
Montreuil-sur-mer;
Lille; The marshes in
the nature reserve
at Somme Bay. Bird
spotting in the
Marquenterre
regional park
the UK for much of my life I also
appreciate the wonderful location of
Pas-de-Calais, as London,
Paris and Brussels are all easily
accessible.
The Hauts-de-France region
is made up of five departments.
Pas-de-Calais and Somme share
the coastline, while inland you
will find the Oise, Aisne and
Nord. Property here is good value,
the Notaires de France tell us
that you will pay an average of
just 1,560 euros per m2 in the
region with lower prices from
1,140 euros per m2 in rural areas and around
double this in
prime locations.
The Leggett team here is a
small one and we are keen to
grow and take on new recruits
and new listings. We know that
this is an area popular with both
domestic and international buyers,
with plenty of demand from
the UK, Belgium, Netherlands
and Germany. Our current portfolio
includes a wide variety of
property to suit all budgets. A
quick look at our website shows
that we have a two bedroom
holiday home within an hour of
Calais, on sale for 31,000 euros,
while at the other end of the
scale we are selling a glorious
16th-century coaching inn for
1.26m euros. Most international
buyers tend to spend between
150-250,000 euros and we
have a wide choice in this price
range.
If you are thinking of buying
or selling property in this area
then please do contact us directly,
you will find that we are
a knowledgeable, professional
and friendly team - don't forget
that we are recruiting too!
TEVENK