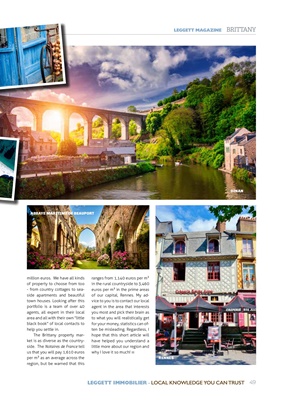 49
LEGGETT MAGAZINE BRITTANY
million euros. We have all kinds
of property to choose from too
- from country cottages to seaside apartments and beautiful
town houses. Looking after this
portfolio is a team of over 40
agents, all expert in their local
area and all with their own "little
black book" of local contacts to
help you settle in.
The Brittany property market
is as diverse as the countryside.
The Notaires de France tell
us that you will pay 1,610 euros
per m2 as an average across the
region, but be warned that this
ranges from 1,140 euros per m2
in the rural countryside to 3,460
euros per m2 in the prime areas
of our capital, Rennes. My advice
to you is to contact our local
agent in the area that interests
you most and pick their brain as
to what you will realistically get
for your money, statistics can often be
misleading. Regardless, I
hope that this short article will
have helped you understand a
little more about our region and
why I love it so much!
RENNES
ABBAYE MARITIME DE BEAUPORT
DINAN
LEGGETT IMMOBILIER - LOCAL KNOWLEDGE YOU CAN TRUST