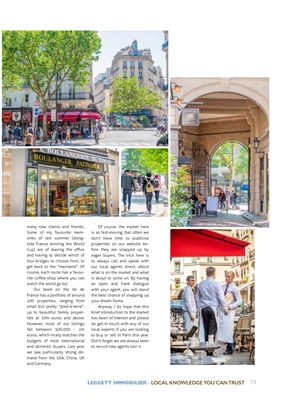 73
LEGGETT IMMOBILIER - LOCAL KNOWLEDGE YOU CAN TRUST
many new clients and friends.
Some of my favourite memories of
last summer (alongside France
winning the World
Cup) are of leaving the office
and having to decide which of
four bridges to choose from, to
get back to the "mainland". Of
course, each route has a favourite coffee
shop where you can
watch the world go by!
Our team on the Ile de
France has a portfolio of around
200 properties, ranging from
small but pretty "pied-à-terre",
up to beautiful family properties at 10m euros
and above.
However, most of our listings
fall between 500,000 - 2m
euros, which nicely matches the
budgets of most international
and domestic buyers. Last year
we saw particularly strong demand from
the USA, China, UK
and Germany.
Of course, the market here
is so fast-moving that often we
don't have time to publicise
properties on our website before
they are snapped up by
eager buyers. The trick here is
to always call and speak with
our local agents direct, about
what is on the market and what
is about to come on. By having
an open and frank dialogue
with your agent, you will stand
the best chance of snapping up
your dream home.
Anyway, I do hope that this
brief introduction to the market
has been of interest and please
do get in touch with any of our
local experts if you are looking
to buy or sell in Paris this year.
Don't forget we are always keen
to recruit new agents too!