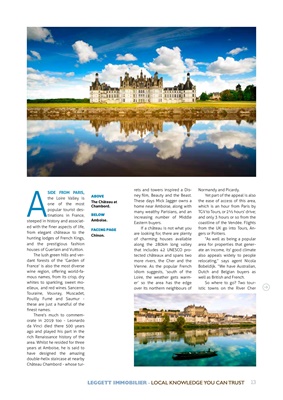 13
A
SIDE FROM PARIS,
the Loire Valley is
one of the most
popular tourist destinations in France,
steeped in history and associated with the finer aspects of
life,
from elegant châteaux to the
hunting lodges of French Kings,
and the prestigious fashion
houses of Guerlain and Vuitton.
The lush green hills and verdant forests
of the 'Garden of
France' is also the most diverse
wine region, offering world-famous names, from
its crisp, dry
whites to sparkling, sweet moelleux, and red
wines. Sancerre,
Touraine, Vouvray, Muscadet,
Pouilly Fumé and Saumur -
these are just a handful of the
finest names.
There's much to commemorate
in 2019 too - Leonardo
da Vinci died there 500 years
ago and played his part in the
rich Renaissance history of the
area. Whilst he resided for three
years at Amboise, he is said to
have designed the amazing
double-helix staircase at nearby
Château Chambord - whose turrets
and towers inspired a Disney
film, Beauty and the Beast.
These days Mick Jagger owns a
home near Amboise, along with
many wealthy Parisians, and an
increasing number of Middle
Eastern buyers.
If a château is not what you
are looking for, there are plenty
of charming houses available
along the 280km long valley
that includes 42 UNESCO protected châteaux and spans two
more rivers, the Cher and the
Vienne. As the popular French
idiom suggests, 'south of the
Loire, the weather gets warmer' so
the area has the edge
over its northern neighbours of
Normandy and Picardy.
Yet part of the appeal is also
the ease of access of this area,
which is an hour from Paris by
TGV to Tours, or 2½ hours' drive;
and only 3 hours or so from the
coastline of the Vendée. Flights
from the UK go into Tours, Angers
or Poitiers.
"As well as being a popular
area for properties that generate an income,
its' good climate
also appeals widely to people
relocating," says agent Nicola
Bobeldijk. "We have Australian,
Dutch and Belgian buyers as
well as British and French.
So where to go? Two touristic towns
on the River Cher
ABOVE
The Château at
Chambord.
BELOW
Amboise.
FACING PAGE
Chinon.
LEGGETT IMMOBILIER - LOCAL KNOWLEDGE YOU CAN TRUST