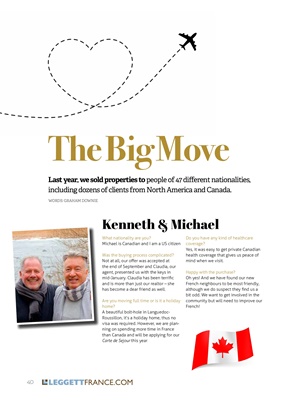 Last year, we sold properties to people of 47 different nationalities,
including dozens of clients from North America and Canada.
WORDS: GRAHAM DOWNIE
The Big Move
Kenneth & Michael
What nationality are you?
Michael is Canadian and I am a US citizen
Was the buying process complicated?
Not at all, our offer was accepted at
the end of September and Claudia, our
agent, presented us with the keys in
mid-January. Claudia has been terrific
and is more than just our realtor - she
has become a dear friend as well.
Are you moving full time or is it a holiday
home?
A beautiful bolt-hole in Languedoc-
Roussillon, it's a holiday home, thus no
visa was required. However, we are planning on spending more
time in France
than Canada and will be applying for our
Carte de Sejour this year.
40 LEGGETTFRANCE.COM
40
Do you have any kind of healthcare
coverage?
Yes, it was easy to get private Canadian
health coverage that gives us peace of
mind when we visit.
Happy with the purchase?
Oh yes! And we have found our new
French neighbours to be most friendly,
although we do suspect they find us a
bit odd. We want to get involved in the
community but will need to improve our
French!