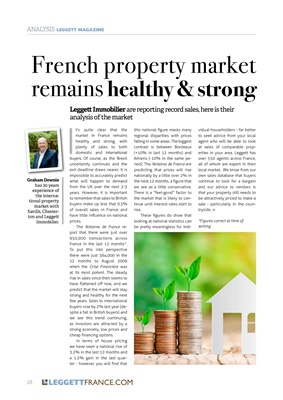 French property market
remains healthy & strong
I
t's quite clear that the
market in France remains
healthy and strong, with
plenty of sales to both
domestic and international
buyers. Of course, as the Brexit
uncertainty continues and the
exit deadline draws nearer, it is
impossible to accurately predict
what will happen to demand
from the UK over the next 2-3
years. However, it is important
to remember that sales to British
buyers make up less that 0.5%
of overall sales in France and
have little influence on national
prices.
The Notaires de France report that there
were just over
950,000 transactions across
France in the last 12 months*.
To put this into perspective
there were just 564,000 in the
12 months to August 2009
when the Crise Financière was
at its most potent. The steady
rise in sales since then seems to
have flattened off now, and we
predict that the market will stay
strong and healthy for the next
few years. Sales to international
buyers rose by 2% last year (despite a fall
in British buyers) and
we see this trend continuing,
as investors are attracted by a
strong economy, low prices and
cheap financing options.
In terms of house pricing
we have seen a national rise of
3.2% in the last 12 months and
a 1.2% gain in the last quarter -
however, you will find that
this national figure masks many
regional disparities with prices
falling in some areas. The biggest
contrast is between Bordeaux
(+10% in last 12 months) and
Amiens (-10% in the same period). The
Notaires de France are
predicting that prices will rise
nationally by a little over 2% in
the next 12 months, a figure that
we see as a little conservative.
There is a "feel-good" factor to
the market that is likely to continue until interest
rates start to
rise.
These figures do show that
looking at national statistics can
be pretty meaningless for individual householders
- far better
to seek advice from your local
agent who will be able to look
at sales of comparable properties in your
area. Leggett has
over 550 agents across France,
all of whom are expert in their
local market. We know from our
own sales database that buyers
continue to look for a bargain
and our advice to vendors is
that your property still needs to
be attractively priced to make a
sale - particularly in the countryside.
*Figures correct at time of
writing
ANALYSIS LEGGETT MAGAZINE
Graham Downie
has 30 years
experience of
the international
property
market with
Savills, Chesterton
and Leggett
Immobilier.
18 LEGGETTFRANCE.COM
Leggett Immobilier are reporting record sales, here is their
analysis of the market