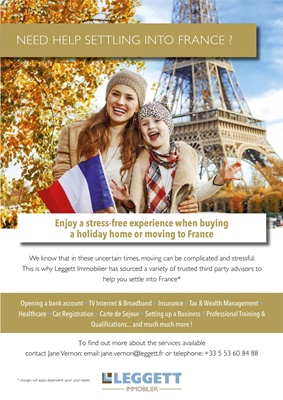 NEED HELP SETTLING INTO FRANCE ?
* charges will apply, dependent upon your needs
We know that in these uncertain times, moving can be complicated and stressful.
This is why Leggett Immobilier has sourced a variety of trusted third party advisors to
help you settle into France*
Opening a bank account • TV Internet & Broadband • Insurance • Tax & Wealth Management •
Healthcare • Car Registration • Carte de Sejour • Setting up a Business • Professional Training &
Qualifi cations... and much much more !
To fi nd out more about the services available
contact Jane Vernon: email: jane.vernon@leggett.fr or telephone: +33 5 53 60 84 88
Enjoy a stress-free experience when buying
a holiday home or moving to France