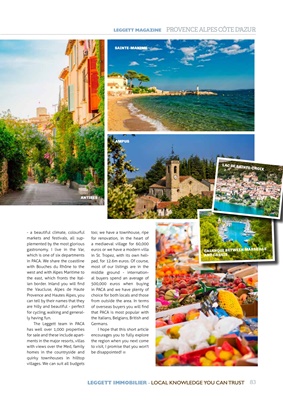 83
LEGGETT IMMOBILIER - LOCAL KNOWLEDGE YOU CAN TRUST
- a beautiful climate, colourful
markets and festivals, all supplemented by
the most glorious
gastronomy. I live in the Var,
which is one of six departments
in PACA. We share the coastline
with Bouches du RhÔne to the
west and with Alpes Maritime to
the east, which fronts the Italian border.
Inland you will find
the Vaucluse, Alpes de Haute
Provence and Hautes Alpes, you
can tell by their names that they
are hilly and beautiful - perfect
for cycling, walking and generally having
fun.
The Leggett team in PACA
has well over 1,000 properties
for sale and these include apartments in the major resorts,
villas
with views over the Med, family
homes in the countryside and
quirky townhouses in hilltop
villages. We can suit all budgets
too; we have a townhouse, ripe
for renovation, in the heart of
a mediaeval village for 60,000
euros or we have a modern villa
in St. Tropez, with its own helipad, for
12.6m euros. Of course,
most of our listings are in the
middle ground - international buyers
spend an average of
500,000 euros when buying
in PACA and we have plenty of
choice for both locals and those
from outside the area. In terms
of overseas buyers you will find
that PACA is most popular with
the Italians, Belgians, British and
Germans.
I hope that this short article
encourages you to fully explore
the region when you next come
to visit, I promise that you won't
be disappointed!
LEGGETT MAGAZINE PROVENCE ALPES CÔTE D'AZUR
ANTIBES
SAINTE-MAXIME
AMPUS
LAC DE SAINTE-CROIX
CALANQUE BETWEEN MARSEILLE
AND CASSIS