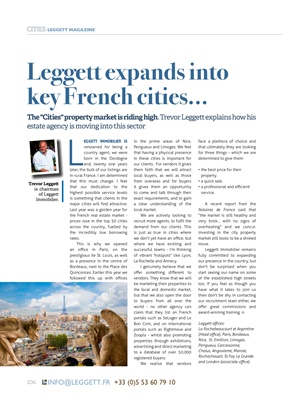 104
CITIES LEGGETT MAGAZINE
The "Cities" property market is riding high. Trevor Leggett explains how his
estate agency is moving into this sector
in the prime areas of Nice,
Perigueux and Limoges. We feel
that having a physical presence
in these cities is important for
our clients. For vendors it gives
them faith that we will attract
local buyers, as well as those
from overseas and for buyers
it gives them an opportunity
to come and talk through their
exact requirements, and to gain
a clear understanding of the
local market.
We are actively looking to
recruit more agents, to fulfil the
demand from our clients. This
is just as true in cities where
we don't yet have an office, but
where we have existing and
successful teams - I'm thinking
of vibrant 'hotspots" like Lyon,
La Rochelle and Annecy.
I genuinely believe that we
offer something different to
vendors. They know that we will
be marketing their properties to
the local and domestic market,
but that we also open the door
to buyers from all over the
world - no other agency can
claim that they list on French
portals such as SeLoger and Le
Bon Coin, and on international
portals such as Rightmove and
Zoopla - whilst also promoting
properties through exhibitions,
advertising and direct marketing
to a database of over 50,000
registered buyers.
We realise that vendors
L
EGGETT IMMOBILIER IS
renowned for being a
country agent, we were
born in the Dordogne
and, twenty one years
later, the bulk of our listings are
in rural France. I am determined
that this must change. I feel
that our dedication to the
highest possible service levels
is something that clients in the
major cities will find attractive.
Last year was a golden year for
the French real estate market -
prices rose in the top 50 cities
across the country, fuelled by
the incredibly low borrowing
rates.
This is why we opened
an office in Paris, on the
prestigious Ile St. Louis, as well
as a presence in the centre of
Bordeaux, next to the Place des
Quinconces. Earlier this year we
followed this up with offices
Leggett expands into
key French cities...
face a plethora of choice and
that ultimately they are looking
for three things - which we are
determined to give them:
• the best price for their
property.
• a quick sale.
• a professional and efficient
service.
A recent report from the
Notaires de France said that
"the market is still healthy and
very brisk... with no signs of
overheating" and we concur.
Investing in the city property
market still looks to be a shrewd
move.
Leggett Immobilier remains
fully committed to expanding
our presence in the country, but
don't be surprised when you
start seeing our name on some
of the established high streets
too. If you feel as though you
have what it takes to join us
then don't be shy in contacting
our recruitment team either, we
offer great commissions and
award-winning training.
Leggett offices:
La Rochebeaucourt et Argentine
(Head office), Paris, Bordeaux,
Nice, St. Emillion, Limoges,
Perigueux, Carcassonne,
Chalus, Angouleme, Mansle,
Rochechouart, St Foy La Grande
and London (associate office).
Trevor Leggett
is chairman
of Leggett
Immobilier.
info@leggett.fr +33 (0)5 53 60 79 10