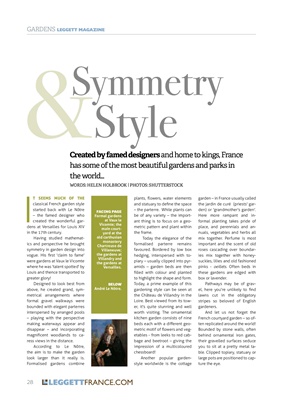 &
28 LEGGETTFRANCE.COM
28 LEGGETTFRANCE.COM
5.
I
T SEEMS MUCH OF THE
classical French garden style
started back with Le Nôtre
- the famed designer who
created the wonderful gardens at
Versailles for Louis XIV
in the 17th century.
Having studied mathematics and perspective
he brought
symmetry in garden design into
vogue. His first 'claim to fame'
were gardens at Vaux le Vicomte
where he was 'talent spotted' by
Louis and thence transported to
greater glory!
Designed to look best from
above, he created grand, symmetrical arrangements
where
formal gravel walkways were
bounded with elegant parterres
interspersed by arranged pools
- playing with the perspective
making waterways appear and
disappear - and incorporating
magnificent woodlands to caress
views in the distance.
According to Le Nôtre,
the aim is to make the garden
look larger than it really is.
Formalised gardens combine
plants, flowers, water elements
and statuary to define the space
- the parterre. While plants can
be of any variety - the important thing is to focus
on a geometric pattern and plant within
the frame.
Today the elegance of the
formalised parterre remains
favoured. Bordered by low box
hedging, interspersed with topiary - usually clipped into pyramids
- garden
beds are then
filled with colour and planted
to highlight the shape and form.
Today, a prime example of this
gardening style can be seen at
the Château de Villandry in the
Loire. Best viewed from its tower,
it's quite stunning and well
worth visiting. The ornamental
kitchen garden consists of nine
beds each with a different geometric motif
of flowers and vegetables - from
leeks to red cabbage
and beetroot - giving the
impression of a multicoloured
chessboard!
Another popular garden-
style worldwide is the cottage
garden - in France usually called
the jardin de curé (priests' garden) or 'grandmother's
garden'.
Here more rampant and informal
planting takes pride of
place, and perennials and annuals, vegetables
and herbs all
mix together. Perfume is most
important and the scent of old
roses cascading over boundaries mix together
with honeysuckles, lilies and old fashioned
pinks - oeillets. Often beds in
these gardens are edged with
box or lavender.
Pathways may be of gravel, here
you're unlikely to find
lawns cut in the obligatory
stripes so beloved of English
gardeners.
And let us not forget the
French courtyard garden - so often replicated
around the world!
Bounded by stone walls, often
behind ornamental iron gates,
their gravelled surfaces seduce
you to sit at a pretty metal table.
Clipped topiary, statuary or
large pots are positioned to capture
the eye.
GARDENS LEGGETT MAGAZINE
Created by famed designers and home to kings, France
has some of the most beautiful gardens and parks in
the world...
WORDS: HELEN HOLBROOK | PHOTOS: SHUTTERSTOCK
FACING PAGE
Formal gardens
at Vaux le
Vicomte; the
main courtyard
at the
old carthusian
monastery
Chartreuse de
Villeneuve;
the gardens at
Villandry and
the gardens at
Versailles.
BELOW
André Le Nôtre.
Symmetry
Style