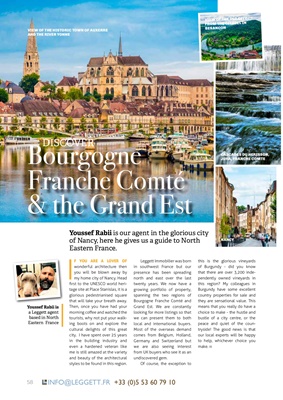 I
F YOU ARE A LOVER OF
wonderful architecture then
you will be blown away by
my home city of Nancy. Head
first to the UNESCO world heritage
site at Place Stanislas, it is a
glorious pedestrianised square
that will take your breath away.
Then, once you have had your
morning coffee and watched the
tourists, why not put your walking boots on and explore
the
cultural delights of this great
city. I have spent over 25 years
in the building industry and
even a hardened veteran like
me is still amazed at the variety
and beauty of the architectural
styles to be found in this region.
Leggett Immobilier was born
in southwest France but our
presence has been spreading
north and east over the last
twenty years. We now have a
growing portfolio of property,
spanning the two regions of
Bourgogne Franche Comté and
Grand Est. We are constantly
looking for more listings so that
we can present them to both
local and international buyers.
Most of the overseas demand
comes from Belgium, Holland,
Germany and Switzerland but
we are also seeing interest
from UK buyers who see it as an
undiscovered gem.
Of course, the exception to
Youssef Rabii is our agent in the glorious city
of Nancy, here he gives us a guide to North
Eastern France.
this is the glorious vineyards
of Burgundy - did you know
that there are over 3,200 independently owned
vineyards in
this region? My colleagues in
Burgundy have some excellent
country properties for sale and
they are sensational value. This
means that you really do have a
choice to make - the hustle and
bustle of a city centre, or the
peace and quiet of the countryside! The good
news is that
our local experts will be happy
to help, whichever choice you
make.
VIEW OF THE HISTORIC TOWN OF AUXERRE
AND THE RIVER YONNE
VIEW OF THE OLD CITY
FROM THE CITADEL IN
BESANCON
CASCADES DU HERISSON,
JURA, FRANCHE COMTE
Youssef Rabii is
a Leggett agent
based in North
Eastern France
NANCY
58 info@leggett.fr +33 (0)5 53 60 79 10
Bourgogne
Franche Comté
& the Grand Est
DISCOVER