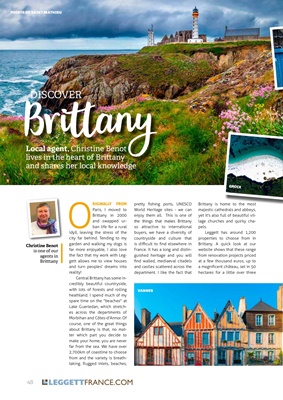 48 LEGGETTFRANCE.COM
O
RIGINALLY FROM
Paris, I moved to
Brittany in 2000
and swapped urban life
for a rural
idyll, leaving the stress of the
city far behind. Tending to my
garden and walking my dogs is
far more enjoyable, I also love
the fact that my work with Leggett
allows me to view houses
and turn peoples' dreams into
reality!
Central Brittany has some incredibly
beautiful countryside,
with lots of forests and rolling
heathland. I spend much of my
spare time on the "beaches" at
Lake Guerledan, which stretches across
the departments of
Morbihan and Côtes-d'Armor. Of
course, one of the great things
about Brittany is that, no matter which part you
decide to
make your home, you are never
far from the sea. We have over
2,700km of coastline to choose
from and the variety is breathtaking.
Rugged inlets, beaches,
pretty fishing ports, UNESCO
World Heritage sites - we can
enjoy them all. This is one of
the things that makes Brittany
so attractive to international
buyers, we have a diversity of
countryside and culture that
is difficult to find elsewhere in
France. It has a long and distinguished heritage
and you will
find walled, mediaeval citadels
and castles scattered across the
department. I like the fact that
Brittany is home to the most
majestic cathedrals and abbeys,
yet it's also full of beautiful village
churches and quirky chapels.
Leggett has around 1,200
properties to choose from in
Brittany. A quick look at our
website shows that these range
from renovation projects priced
at a few thousand euros, up to
a magnificent château, set in 50
hectares for a little over three
Local agent, Christine Benot
lives in the heart of Brittany
and shares her local knowledge
Christine Benot
is one of our
agents in
Britttany
VANNES
POINTE DE SAINT MATHIEU
GROIX
Brittany
DISCOVER