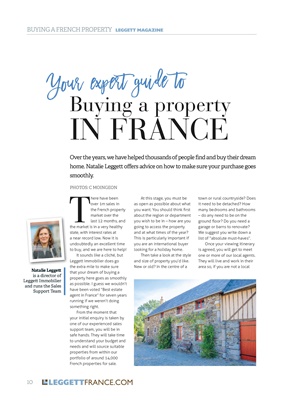 10
Over the years, we have helped thousands of people fi nd and buy their dream
home. Natalie Legge" off ers advice on how to make sure your purchase goes
smoothly.
At this stage, you must be
as open as possible about what
you want. You should think fi rst
about the region or department
you wish to be in - how are you
going to access the property
and at what times of the year?
This is particularly important if
you are an international buyer
looking for a holiday home.
Then take a look at the style
and size of property you'd like.
New or old? In the centre of a
town or rural countryside? Does
it need to be detached? How
many bedrooms and bathrooms
- do any need to be on the
ground fl oor? Do you need a
garage or barns to renovate?
We suggest you write down a
list of "absolute must-haves".
Once your viewing itinerary
is agreed, you will get to meet
one or more of our local agents.
They will live and work in their
area so, if you are not a local
T
here have been
over 1m sales in
the French property
market over the
last 12 months, and
the market is in a very healthy
state, with interest rates at
a near record low. Now it is
undoubtedly an excellent time
to buy, and we are here to help!
It sounds like a cliché, but
Leggett Immobilier does go
the extra mile to make sure
that your dream of buying a
property here goes as smoothly
as possible. I guess we wouldn't
have been voted "Best estate
agent in France" for seven years
running if we weren't doing
something right.
From the moment that
your initial enquiry is taken by
one of our experienced sales
support team, you will be in
safe hands. They will take time
to understand your budget and
needs and will source suitable
properties from within our
portfolio of around 14,000
French properties for sale.
Buying a property
IN FRANCE
BUYING A FRENCH PROPERTY LEGGETT MAGAZINE
PHOTOS: C MOINGEON
Natalie Legge
is a director of
Legge" Immobilier
and runs the Sales
Support Team
Your expert guide to
LEGGETTFRANCE.COM
10