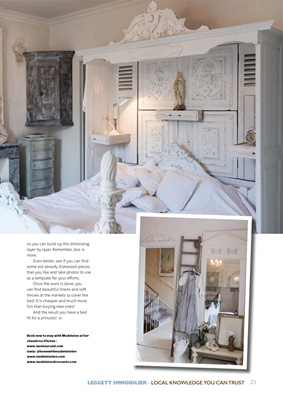 so you can build up the distressing
layer by layer. Remember, less is
more.
Even better, see if you can fi nd
some old already distressed pieces
that you like and take photos to use
as a template for your eff orts.
Once the work is done, you
can fi nd beautiful linens and soft
throws at the markets to cover the
bed. It is cheaper and much more
fun than buying new ones!
And the result you have a bed
fi t for a princess!
LEGGETT IMMOBILIER - LOCAL KNOWLEDGE YOU CAN TRUST 23
Book now to stay with Madeleine at her
chambres d'hotes :
insta: @homewithmadeleinelee