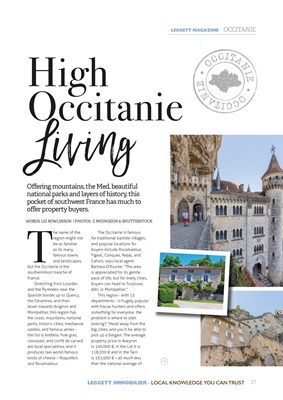 T
he name of the
region might not
be as familiar
as its many
famous towns
and landscapes,
but the Occitanie is the
southernmost tranche of
France.
Stretching from Lourdes
and the Pyrénées near the
Spanish border up to Quercy,
the Cévennes, and then
down towards Avignon and
Montpellier, this region has
the coast, mountains, national
parks, historic cities, mediaeval
castles, and famous wines -
the list is endless. Foie gras,
cassoulet, and confi t de canard
are local specialities, and it
produces two world-famous
kinds of cheese - Roquefort
and Rocamadour.
High
Occitanie
Living
Off ering mountains, the Med, beautiful
national parks and layers of history, this
pocket of southwest France has much to
off er property buyers. The Occitanie is famous
for traditional bastide villages,
and popular locations for
buyers include Rocamadour,
Figeac, Conques, Najac, and
Cahors, says local agent
Barbara O'Rourke. "The area
is appreciated for its gentle
pace of life, but for lively cities,
buyers can head to Toulouse,
Albi, or Montpellier."
This region - with 13
departments - is hugely popular
with house hunters and off ers
something for everyone, the
problem is where to start
looking? "Head away from the
big cities, and you'll be able to
pick up a bargain. The average
property price in Aveyron
is 100,000 €, in the Lot it is
118,200 € and in the Tarn
is 131,000 € - all much less
than the national average of
WORDS: LIZ ROWLINSON | PHOTOS: C MOINGEON & SHUTTERSTOCK
17
LEGGETT IMMOBILIER - LOCAL KNOWLEDGE YOU CAN TRUST
LEGGETT MAGAZINE OCCITANIE