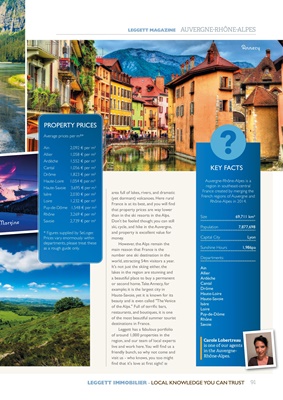 area full of lakes, rivers, and dramatic
(yet dormant) volcanoes. Here rural
France is at its best, and you will fi nd
that property prices are way lower
than in the ski resorts in the Alps.
Don't be fooled though; you can still
ski, cycle, and hike in the Auvergne,
and property is excellent value for
money.
However, the Alps remain the
main reason that France is the
number one ski destination in the
world, attracting 54m visitors a year.
It's not just the skiing either, the
lakes in the region are stunning and
a beautiful place to buy a permanent
or second home. Take Annecy, for
example; it is the largest city in
Haute-Savoie, yet it is known for its
beauty and is even called "The Venice
of the Alps." Full of terrifi c bars,
restaurants, and boutiques, it is one
of the most beautiful summer tourist
destinations in France.
Leggett has a fabulous portfolio
of around 1,000 properties in the
region, and our team of local experts
live and work here. You will fi nd us a
friendly bunch, so why not come and
visit us - who knows, you too might
fi nd that it's love at fi rst sight!
LEGGETT MAGAZINE AUVERGNEºRHÔNEºALPES
91
LEGGETT IMMOBILIER - LOCAL KNOWLEDGE YOU CAN TRUST
KEY FACTS
Auvergne-Rhône-Alpes is a
region in southeast-central
France created by merging the
French regions of Auvergne and
Rhône-Alpes in 2014.
Size 69,711 km²
Population 7,877,698
Capital City Lyon
Sunshine Hours 1,986pa
Departments:
Ain
Allier
Ardèche
Cantal
Drôme
Haute-Loire
Haute-Savoie
Isère
Loire
Puy-de-Dôme
Rhône
Savoie
Carole Lobertreau
is one of our agents
in the Auvergne-
Rh½ne-Alpes.
?Annecy
Morzine
Average prices per m²*
Ain 2,092 € per m²
Allier 1,058 € per m²
Ardèche 1,552 € per m²
Cantal 1,056 € per m²
Drôme 1,823 € per m²
Haute-Loire 1,054 € per m²
Haute-Savoie 3,695 € per m²
Isère 2,030 € per m²
Loire 1,232 € per m²
Puy-de-Dôme 1,548 € per m²
Rhône 3,269 € per m²
Savoie 2,739 € per m²
* Figures supplied by SeLoger.
Prices vary enormously within
departments, please treat these
as a rough guide only.
PROPERTY PRICES