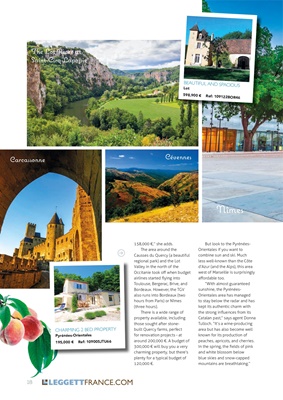 But look to the PyrénéesOrientales if you
want to
combine sun and ski. Much
less well-known than the Côte
d'Azur (and the Alps), this area
west of Marseille is surprisingly
aff ordable too.
"With almost guaranteed
sunshine, the PyrénéesOrientales area
has managed
to stay below the radar and has
kept its authentic charm with
the strong infl uences from its
Catalan past," says agent Donna
Tulloch. "It's a wine-producing
area but has also become well
known for its production of
peaches, apricots, and cherries.
In the spring, the fi elds of pink
and white blossom below
blue skies and snow-capped
mountains are breathtaking."
158,000 €," she adds.
The area around the
Causses du Quercy (a beautiful
regional park) and the Lot
Valley in the north of the
Occitanie took off when budget
airlines started fl ying into
Toulouse, Bergerac, Brive, and
Bordeaux. However, the TGV
also runs into Bordeaux (two
hours from Paris) or Nîmes
(three hours).
There is a wide range of
property available, including
those sought after stonebuilt Quercy
farms, perfect
for renovation projects - at
around 200,000 €. A budget of
300,000 € will buy you a very
charming property, but there's
plenty for a typical budget of
120,000 €.
The Lot River at
Saint-Cirq-Lapopie
Cévennes
Nîmes
18
BEAUTIFUL AND SPACIOUS
Lot
598,900 € Ref: 109122BOR46
CHARMING 2 BED PROPERTY
Pyrénées-Orientales
195,000 € Ref: 109005JTU66
Carcassonne LEGGETTFRANCE.COM