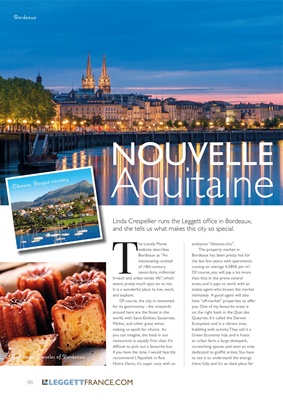 NOUVELLE
Aquitaine
T
he Lonely Planet
website describes
Bordeaux as "An
intoxicating cocktail
of 18th-century
savoir-faire, millennial
hi-tech and urban street life", which
seems pretty much spot on to me.
It is a wonderful place to live, work,
and explore.
Of course, the city is renowned
for its gastronomy - the vineyards
around here are the fi nest in the
world, with Saint-Émilion, Sauternes,
Médoc, and other great wines
making us spoilt for choice. As
you can imagine, the food in our
restaurants is equally fi rst class. It's
diffi cult to pick out a favourite but,
if you have the time, I would heartily
recommend L'Apothek in Rue
Notre Dame, it's super cosy with an
Linda Crespellier runs the Leggett offi ce in Bordeaux,
and she tells us what makes this city so special.
ambiance "détente-chic".
The property market in
Bordeaux has been pretty hot for
the last few years, with apartments
costing on average 4,585€ per m².
Of course, you will pay a lot more
than that in the prime central
areas, and it pays to work with an
estate agent who knows the market
intimately. A good agent will also
have "off-market" properties to offer
you. One of my favourite areas is
on the right bank in the Quai des
Queyries. It's called the Darwin
Ecosystem and is a vibrant area,
bubbling with activity. They call it a
Green Economy hub, and it hosts
an urban farm, a large skatepark,
co-working spaces, and even an area
dedicated to graffi ti artists. You have
to see it to understand the energy
there fully, and it's an ideal place for
96 LEGGETTFRANCE.COM
Bordeaux
The famous Caneles of Bordeaux
Ciboure, Basque country
PBPB