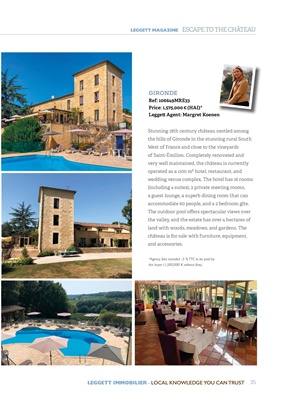 35
2.
4.
5.
6.
Stunning 18th century château nestled among
the hills of Gironde in the stunning rural South
West of France and close to the vineyards
of Saint-Émilion. Completely renovated and
very well maintained, the château is currently
operated as a 1100 m² hotel, restaurant, and
wedding venue complex. The hotel has 16 rooms
(including 4 suites), 2 private meeting rooms,
a guest lounge, a superb dining room that can
accommodate 60 people, and a 2 bedroom gîte.
The outdoor pool off ers spectacular views over
the valley, and the estate has over 4 hectares of
land with woods, meadows, and gardens. The
château is for sale with furniture, equipment,
and accessories.
GIRONDE
Ref: 106649MRE33
Price: 1,575,000 € (HAI)*
Legge
Agent: Margret Koenen
*Agency fees included : 5 % TTC to be paid by
the buyer (1,500,000 € without fees)
LEGGETT MAGAZINE ESCAPE TO THE CHÂTEAU
LEGGETT IMMOBILIER - LOCAL KNOWLEDGE YOU CAN TRUST