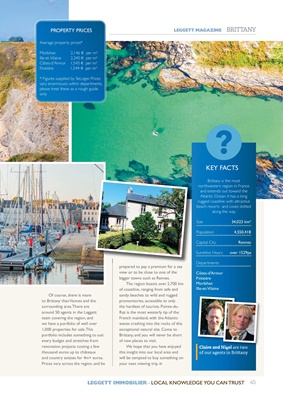 45
LEGGETT MAGAZINE BRITTANY
KEY FACTS
Brittany is the most
northwestern region in France
and extends out toward the
Atlantic Ocean. It has a long
rugged coastline with attractive
beach resorts and coves dotted
along the way.
Size 34,023 km²
Population 4,550,418
Capital City Rennes
Sunshine Hours over 1529pa
Departments:
Côtes-d'Armor
Finistère
Morbihan
Ille-et-Vilaine
Claire and Nigel are two
of our agents in Bri" any
?
Of course, there is more
to Brittany than Vannes and the
surrounding area. There are
around 50 agents in the Leggett
team covering the region, and
we have a portfolio of well over
1,000 properties for sale. This
portfolio includes something to suit
every budget and stretches from
renovation projects costing a few
thousand euros up to châteaux
and country estates for 4m+ euros.
Prices vary across the region, and be
prepared to pay a premium for a sea
view or to be close to one of the
bigger towns such as Rennes.
The region boasts over 2,700 km
of coastline, ranging from safe and
sandy beaches to wild and rugged
promontories, accessible to only
the hardiest of tourists. Pointe-duRaz is the most westerly
tip of the
French mainland, with the Atlantic
waves crashing into the rocks of this
exceptional natural site. Come to
Brittany, and you will never be short
of new places to visit.
We hope that you have enjoyed
this insight into our local area and
will be tempted to buy something on
your next viewing trip.
Average property prices*
Morbihan 2,146 € per m²
Ille-et-Vilaine 2,240 € per m²
Côtes-d'Armor 1,543 € per m²
Finistère 1,544 € per m²
* Figures supplied by SeLoger. Prices
vary enormously within departments,
please treat these as a rough guide
only. PROPERTY PRICES
Claire and Nigel are two
LEGGETT IMMOBILIER - LOCAL KNOWLEDGE YOU CAN TRUST