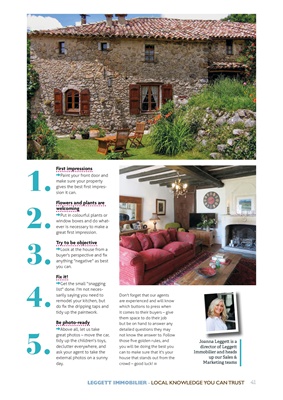 1.
41
LEGGETT IMMOBILIER - LOCAL KNOWLEDGE YOU CAN TRUST
First impressions
Paint your front door and
make sure your property
gives the best fi rst impression it can.
Flowers and plants are
welcoming
Put in colourful plants or
window boxes and do whatever
is necessary to make a
great fi rst impression.
Try to be objective
Look at the house from a
buyer's perspective and fi x
anything "negative" as best
you can.
Fix it!
Get the small "snagging
list" done. I'm not necessarily saying you
need to
remodel your kitchen, but
do fi x the dripping taps and
tidy up the paintwork.
Be photo-ready
Above all, let us take
great photos - move the car,
tidy up the children's toys,
declutter everywhere, and
ask your agent to take the
external photos on a sunny
day.
Don't forget that our agents
are experienced and will know
which buttons to press when
it comes to their buyers - give
them space to do their job
but be on hand to answer any
detailed questions they may
not know the answer to. Follow
those fi ve golden rules, and
you will be doing the best you
can to make sure that it's your
house that stands out from the
crowd - good luck!
Joanna Legge" is a
director of Legge"
Immobilier and heads
up our Sales &
Marketing teams
2.
3.
4.
5.