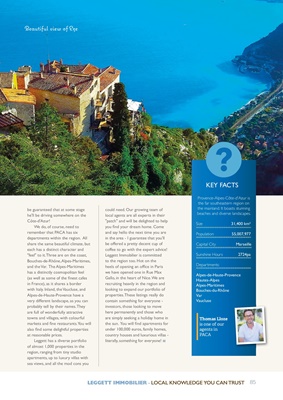 85
LEGGETT IMMOBILIER - LOCAL KNOWLEDGE YOU CAN TRUST
be guaranteed that at some stage
he'll be driving somewhere on the
Côte-d'Azur!
We do, of course, need to
remember that PACA has six
departments within the region. All
share the same beautiful climate, but
each has a distinct character and
"feel" to it. Three are on the coast,
Bouches-de-Rhône, Alpes-Maritimes,
and the Var. The Alpes-Maritimes
has a distinctly cosmopolitan feel
(as well as some of the fi nest cafes
in France), as it shares a border
with Italy. Inland, the Vaucluse, and
Alpes-de-Haute-Provence have a
very different landscape, as you can
probably tell by their names. They
are full of wonderfully attractive
towns and villages, with colourful
markets and fi ne restaurants. You will
also fi nd some delightful properties
at reasonable prices.
Leggett has a diverse portfolio
of almost 1,000 properties in the
region, ranging from tiny studio
apartments, up to luxury villas with
sea views, and all the mod cons you
could need. Our growing team of
local agents are all experts in their
"patch" and will be delighted to help
you fi nd your dream home. Come
and say hello the next time you are
in the area - I guarantee that you'll
be offered a pretty decent cup of
coffee to go with the expert advice!
Leggett Immobilier is committed
to the region too. Hot on the
heels of opening an offi ce in Paris
we have opened one in Rue Max
Gallo, in the heart of Nice. We are
recruiting heavily in the region and
looking to expand our portfolio of
properties. These listings really do
contain something for everyone -
investors, those looking to move
here permanently and those who
are simply seeking a holiday home in
the sun. You will fi nd apartments for
under 100,000 euros, family homes,
country houses and luxurious villas -
literally, something for everyone!
KEY FACTS
Provence-Alpes-Côte-d'Azur is
the far southeastern region on
the mainland. It boasts stunning
beaches and diverse landscapes.
Size 31,400 km²
Population 55,007,977
Capital City Marseille
Sunshine Hours 2724pa
Departments:
Alpes-de-Haute-Provence
Hautes-Alpes
Alpes-Maritimes
Bouches-du-Rhône
Var
Vaucluse
Thomas Lloze
is one of our
agents in
PACA?
Beautiful view of Eze