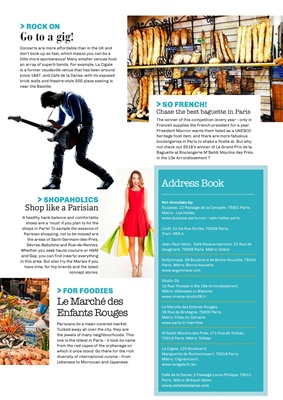 Parisians do a mean covered market.
Tucked away all over the city, they are
the jewels of many neighbourhoods. This
one is the oldest in Paris - it took its name
from the red capes of the orphanage on
which it once stood. Go there for the rich
diversity of international cuisine - from
Lebanese to Moroccan and Japanese.
> FOR FOODIES
Le Marché des
Enfants Rouges
The winner of this competition (every year - only in
France!) supplies the French president for a year.
President Macron wants them listed as a UNESCO
heritage food item, and there are more fabulous
boulangeries in Paris to shake a ficelle at. But why
not check out 2019's winner of Le Grand Prix de la
Baguette at Boulangerie M'Seddi Moulins des Prés,
in the 13e Arrondissement ?
> SO FRENCH!
Chase the best baguette in Paris
> SHOPAHOLICS
Shop like a Parisian
Concerts are more affordable than in the UK and
don't book up so fast, which means you can be a
little more spontaneous! Many smaller venues host
an array of superb bands. For example, La Cigale
is a former vaudeville venue that has been around
since 1887, and Café de la Danse, with its exposed
brick walls and theatre-style 500 place seating is
near the Bastille.
> ROCK ON
Go to a gig!
Address Book
Hot chocolate by:
Ducasse, 12 Passage de la Canopée, 75001 Paris.
Métro - Les Halles.
www.ducasse-paris.com › cafe-halles-paris
Lindt, 11 bis Rue Scribe, 75009 Paris.
Train: RER A
Jean-Paul Hévin, Café Pavane tearoom, 22 Rue de
Vaugirard, 75006 Paris. Métro: Odéon
SoGymnase, 38 Boulevard de Bonne Nouvelle, 75010
Paris. Métro: Bonne Nouvelle
Studio 28,
10 Rue Tholozé in the 18e Arrondissement.
Métro: Abbesses or Blanche
Le Marché des Enfants Rouges,
39 Rue de Bretagne, 75003 Paris.
Metro: Filles du Calvaire
M'Seddi Moulins des Prés, 171 Rue de Tolbiac,
75013 Paris. Métro: Tolbiac
La Cigale, 120 Boulevard
Marguerite de Rochechouart, 75018 Paris.
Métro: Clignancourt.
Café de la Danse, 5 Passage Louis-Philippe, 75011
Paris. Métro: Bréquet Sabin.
A healthy bank balance and comfortable
shoes are a 'must' if you plan to hit the
shops in Paris! To sample the essence of
Parisian shopping, not to be missed are
the areas of Saint-Germain-des-Prés,
Sèvres-Babylone and Rue-de-Rennes.
Whether you seek haute couture or H&M
and Gap, you can find (nearly) everything
in this area. But also try the Marais if you
have time, for hip brands and the latest
concept stores.