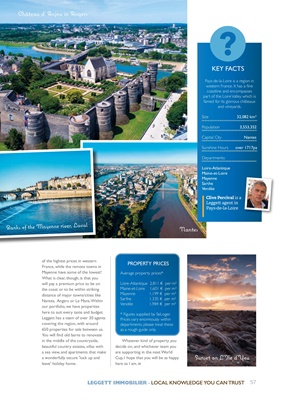 57
LEGGETT IMMOBILIER - LOCAL KNOWLEDGE YOU CAN TRUST
of the highest prices in western
France, while the remote towns in
Mayenne have some of the lowest!
What is clear, though, is that you
will pay a premium price to be on
the coast or to be within striking
distance of major towns/cities like
Nantes, Angers or Le Mans. Within
our portfolio, we have properties
here to suit every taste and budget.
Leggett has a team of over 30 agents
covering the region, with around
650 properties for sale between us.
You will fi nd old barns to renovate
in the middle of the countryside,
beautiful country estates, villas with
a sea view, and apartments that make
a wonderfully secure 'lock up and
leave' holiday home.
Whatever kind of property you
decide on, and whichever team you
are supporting in the next World
Cup, I hope that you will be as happy
here as I am.
Average property prices*
Loire-Atlantique 2,811 € per m²
Maine-et-Loire 1,601 € per m²
Mayenne 1,199 € per m²
Sarthe 1,335 € per m²
Vendée 1,984 € per m²
* Figures supplied by SeLoger.
Prices vary enormously within
departments, please treat these
as a rough guide only.
PROPERTY PRICES
KEY FACTS
Pays-de-la-Loire is a region in
western France. It has a fi ne
coastline and encompasses
part of the Loire Valley which is
famed for its glorious châteaux
and vineyards.
Size 32,082 km²
Population 3,553,352
Capital City Nantes
Sunshine Hours over 1717pa
Departments:
Loire-Atlantique
Maine-et-Loire
Mayenne
Sarthe
Vendée
Clive Percival is a
Leggett agent in
Pays-de-la-Loire
?
Château d' Anjou in Angers
Banks of the Mayenne river, Laval
Nantes
Sunset on L'Ile d'Yeu