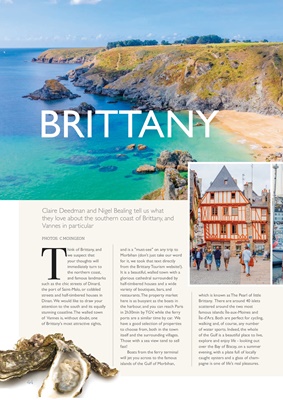 T
hink of Brittany, and
we suspect that
your thoughts will
immediately turn to
the northern coast,
and famous landmarks
such as the chic streets of Dinard,
the port of Saint-Malo, or cobbled
streets and half-timbered houses in
Dinan. We would like to draw your
attention to the south and its equally
stunning coastline. The walled town
of Vannes is, without doubt, one
of Brittany's most attractive sights,
Claire Deedman and Nigel Bealing tell us what
they love about the southern coast of Brittany, and
Vannes in particular
and is a "must-see" on any trip to
Morbihan (don't just take our word
for it, we took that text directly
from the Brittany Tourism website!).
It is a beautiful, walled town with a
glorious cathedral surrounded by
half-timbered houses and a wide
variety of boutiques, bars, and
restaurants. The property market
here is as buoyant as the boats in
the harbour, and you can reach Paris
in 2h30min by TGV, while the ferry
ports are a similar time by car. We
have a good selection of properties
to choose from, both in the town
itself and the surrounding villages.
Those with a sea view tend to sell
fast!
Boats from the ferry terminal
will jet you across to the famous
islands of the Gulf of Morbihan,
which is known as The Pearl of little
Brittany. There are around 40 islets
scattered around the two most
famous islands: Île-aux-Moines and
Île-d'Arz. Both are perfect for cycling,
walking and, of course, any number
of water sports. Indeed, the whole
of the Gulf is a beautiful place to live,
explore and enjoy life - looking out
over the Bay of Biscay, on a summer
evening, with a plate full of locally
caught oysters and a glass of champagne is one of life's
real pleasures.
BRITTANY
44
PHOTOS: C MOINGEON