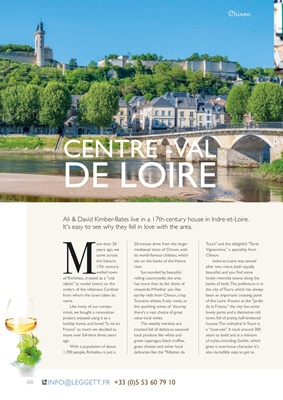 68
CENTRE -VAL
DE LOIRE
Tours" and the delightful "Tarte
Vigneronne," a speciality from
Chinon.
Indre-et-Loire was named
after two rivers, both equally
beautiful, and you fi nd some
lovely riverside towns along the
banks of both. The prefecture is in
the city of Tours, which has always
been an important crossing point
of the Loire. Known as the "Jardin
de la France," the city has some
lovely parks and a distinctive old
town, full of pretty, half-timbered
houses. The cathedral in Tours is
a "must-see". It took around 300
years to build and is a mixture
of styles, including Gothic, which
gives it enormous character. It's
also incredibly easy to get to
M
ore than 20
years ago, we
came across
the historic
17th century
walled town
of Richelieu, created as a "cité
idéale" (a model town) on the
orders of the infamous Cardinal
from whom the town takes its
name.
Like many of our compatriots,
we bought a renovation
project, enjoyed using it as a
holiday home, and loved "la vie en
France" so much we decided to
move over full-time three years
ago.
With a population of about
1,700 people, Richelieu is just a
Ali & David Kimber-Bates live in a 17th-century house in Indre-et-Loire.
It's easy to see why they fell in love with the area.
20-minute drive from the larger
mediaeval town of Chinon, with
its world-famous château, which
sits on the banks of the Vienne
river.
Surrounded by beautiful
rolling countryside, the area
has more than its fair share of
vineyards. Whether you like
earthy reds from Chinon, crisp
Touraine whites, fruity rosés, or
the sparkling wines of Vouvray,
there's a vast choice of great
value local wines.
The weekly markets are
stocked full of delicious seasonal
local produce like white and
green asparagus, black truffl es,
goats cheese, and other local
delicacies like the "Rillettes de
info@leggett.fr +33 (0)5 53 60 79 10
Chinon