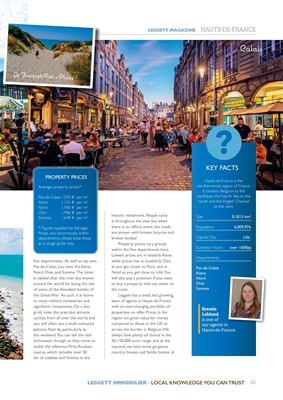 KEY FACTS
Hauts-de-France is the
northernmost region of France.
It borders Belgium to the
northeast, the North Sea to the
north and the English Channel
to the west.
Size 31,813 km²
Population 6,009,976
Capital City Lille
Sunshine Hours over 1600pa
Departments:
Pas-de-Calais
Aisne
Nord
Oise
Somme
Brenda
Leblond
is one of
our agents in
Hauts-de-France.
?
fi ve departments. As well as my own
Pas-de-Calais, you have the Aisne,
Nord, Oise, and Somme. The latter
is named after the river but known
around the world for being the site
of some of the bloodiest battles of
the Great War. As such, it is home
to many military cemeteries and
signifi cant monuments. On a less
grisly note, the area also attracts
cyclists from all over the world, and
you will often see a multi-coloured
peloton fl ash by, particularly at
the weekend. You can tell the real
enthusiasts though, as they come to
tackle the infamous Paris-Roubaix
course, which includes over 50
km of cobbles and fi nishes in the
Le Touquet-Paris-Plage
our agents in
61
LEGGETT IMMOBILIER - LOCAL KNOWLEDGE YOU CAN TRUST
LEGGETT MAGAZINE HAUTSºDEºFRANCE
Average property prices*
Pas-de-Calais 1,593 € per m²
Aisne 1,152 € per m²
Nord 1,960 € per m²
Oise 1,986 € per m²
Somme 1,648 € per m²
* Figures supplied by SeLoger.
Prices vary enormously within
departments, please treat these
as a rough guide only.
PROPERTY PRICES
historic velodrome. People cycle
it throughout the year, but when
there is an offi cial event, the roads
are strewn with broken bicycles and
broken bodies!
Property prices vary greatly
within the fi ve departments here.
Lowest prices are in easterly Aisne,
while prices rise in southerly Oise
as you get closer to Paris, and in
Nord as you get close to Lille. You
will also pay a premium if you want
to buy a property with sea views on
the coast.
Leggett has a small, but growing,
team of agents in Hauts-de-France
with an ever-changing portfolio of
properties on offer. Prices in the
region are great value for money
compared to those in the UK or
across the border in Belgium. We
always have plenty of choice in the
50-150,000 euro range, and at the
top-end, we have some gorgeous
country houses and family homes.
Calais