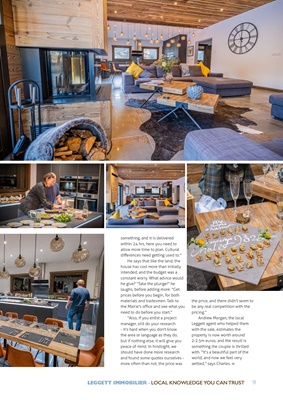 9
LEGGETT IMMOBILIER - LOCAL KNOWLEDGE YOU CAN TRUST
something, and it is delivered
within 24 hrs, here you need to
allow more time to plan. Cultural
differences need getting used to."
He says that like the land, the
house has cost more than initially
intended, and the budget was a
constant worry. What advice would
he give? "Take the plunge!" he
laughs, before adding more: "Get
prices before you begin, for both
materials and tradesmen. Talk to
the Mairie's office and see what you
need to do before you start."
"Also, if you enlist a project
manager, still do your research
- it's hard when you don't know
the area or language as they do,
but if nothing else, it will give you
peace of mind. In hindsight, we
should have done more research
and found some quotes ourselves -
more often than not, the price was
the price, and there didn't seem to
be any real competition with the
pricing."
Andrew Morgan, the local
Leggett agent who helped them
with the sale, estimates the
property is now worth around
2-2.5m euros, and the result is
something the couple is thrilled
with. "It's a beautiful part of the
world, and now we feel very
settled," says Charles.