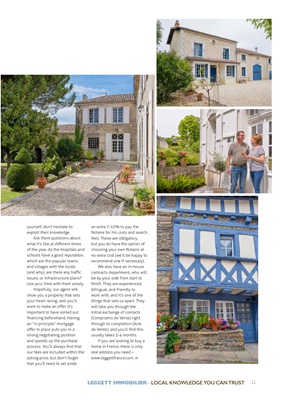 yourself, don't hesitate to
exploit their knowledge.
Ask them questions about
what it's like at different times
of the year, do the hospitals and
schools have a good reputation,
which are the popular towns
and villages with the locals
(and why), are there any traffic
issues, or infrastructure plans?
Use your time with them wisely.
Hopefully, our agent will
show you a property that sets
your heart racing, and you'll
want to make an offer. It's
important to have sorted out
financing beforehand. Having
an "in principle" mortgage
offer in place puts you in a
strong negotiating position
and speeds up the purchase
process. You'll always find that
our fees are included within the
asking price, but don't forget
that you'll need to set aside
an extra 7-10% to pay the
Notaire for his costs and search
fees. These are obligatory,
but you do have the option of
choosing your own Notaire at
no extra cost (we'll be happy to
recommend one if necessary).
We also have an in-house
contracts department, who will
be by your side from start to
finish. They are experienced,
bilingual, and friendly to
work with, and it's one of the
things that sets us apart. They
will take you through the
initial exchange of contacts
(Compromis de Vente) right
through to completion (Acte
de Vente), and you'll find this
usually takes 3-4 months.
If you are looking to buy a
home in France, there is only
one address you need -
11
LEGGETT IMMOBILIER - LOCAL KNOWLEDGE YOU CAN TRUST